Samsung 8.5kg BubbleWash™ Front Load Smart Washer with Steam Wash Cycle
$999.00
Out of stock
Notify me when back in stock
Description
Intelligent washing
AI personalised settings
Powerful AI Control personalises your washing by remembering your habits, suggesting cycles and displaying timely information. With intelligent location-based recommendations, you can start, stop and set the optimum wash cycle. The SmartThings App1 provides advice on cycles, planning and troubleshooting. At the end of the cycle, it automatically selects the perfect drying course.2
Intelligent washing
AI personalised settings
Powerful AI Control personalises your washing by remembering your habits, suggesting cycles and displaying timely information. With intelligent location-based recommendations, you can start, stop and set the optimum wash cycle. The SmartThings App1 provides advice on cycles, planning and troubleshooting. At the end of the cycle, it automatically selects the perfect drying course.2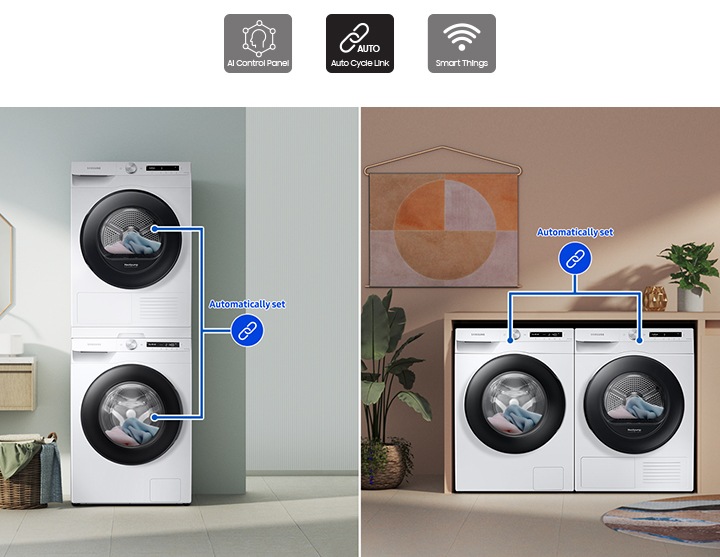 Intelligent washing
AI personalised settings
Powerful AI Control personalises your washing by remembering your habits, suggesting cycles and displaying timely information. With intelligent location-based recommendations, you can start, stop and set the optimum wash cycle. The SmartThings App1 provides advice on cycles, planning and troubleshooting. At the end of the cycle, it automatically selects the perfect drying course.2
1. Available on Android and iOS devices. A Wi-Fi connection and a Samsung account are required. Mobile GUI images may vary by country, environment, etc. 2. Auto Cycle Link is only available when both the washer and dryer have AI Control and Wi-Fi connected.
Hygienically clean
Steam cycle
Give your clothes a deep clean with steam. Powerful Hygiene Steam Cycle improves the cleaning ability of your wash by releasing steam from the bottom of the drum. This helps attack up to 99.9% of certain common bacteria3 and allergens4.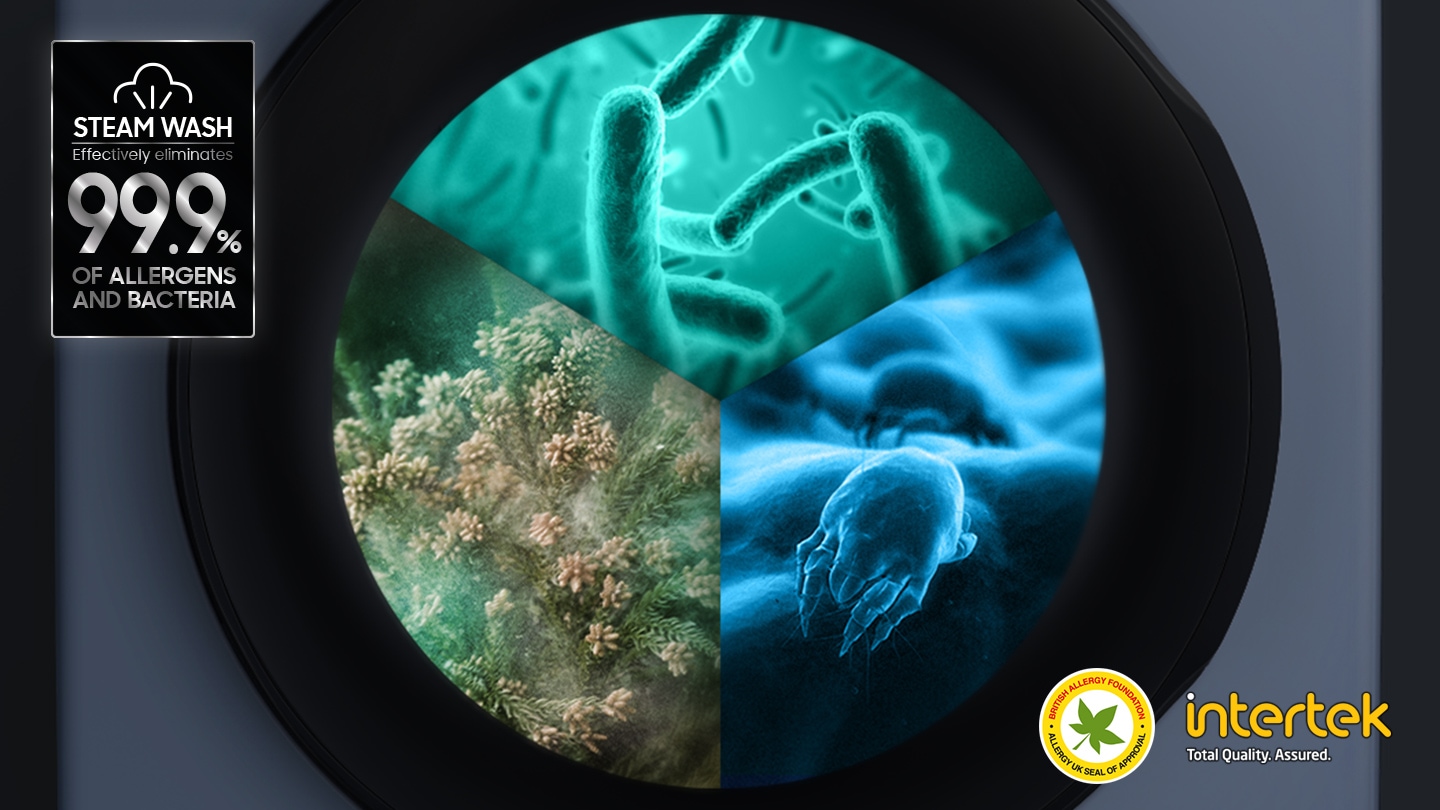 3. Based on the Intertek test report for the Hygiene steam course. Removes 99.9% of certain bacteria, including Staphylococcus aureus and Escherichia coli. Individual results may vary. 4. Based on The British Allergy Foundation (BAF) test report for the Hygiene Steam course. Removes allergens derived from house dust mites. *Image simulated for illustrative purposes.
Hard on dirt. Soft on clothes.
BubbleWash™ and BubbleSoak™
BubbleWash™ is designed to help generate foam by pre-mixing detergent with air and water from the beginning of the cycle. BubbleSoakTM is an optional pre-treatment cycle in which clothes are thoroughly soaked in active bubbles before your wash cycle.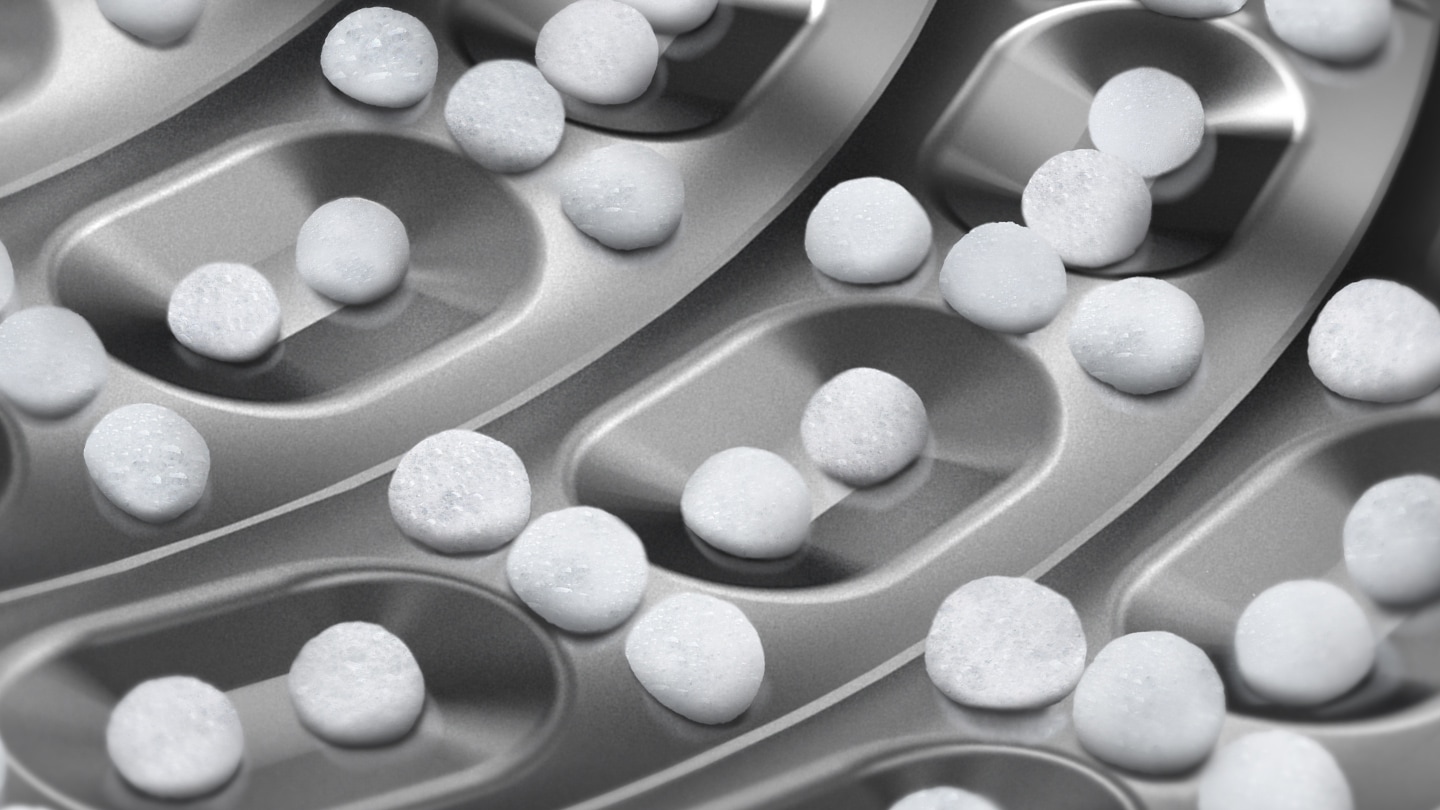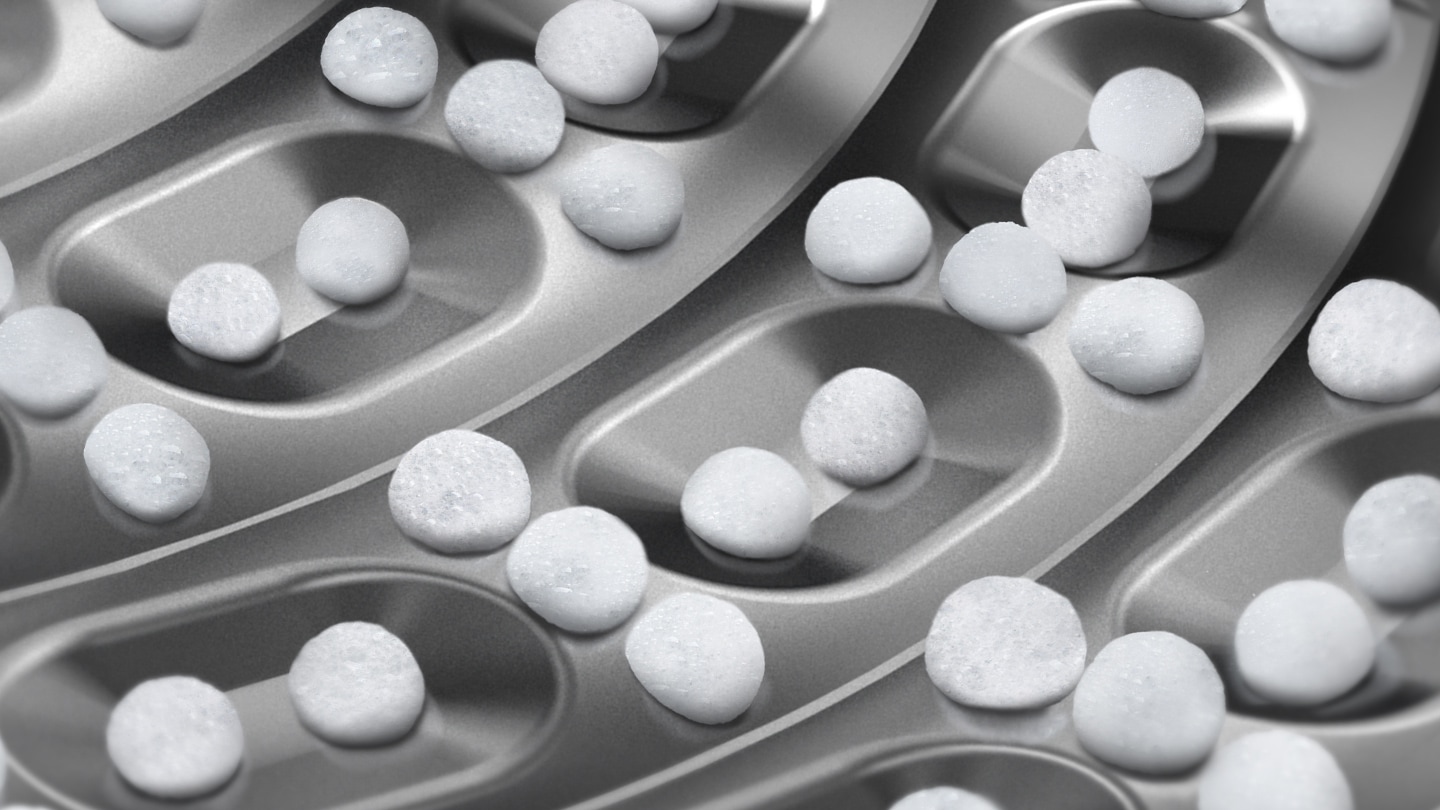 Small loads in 15 mins
Quick Wash Cycle5
No time to waste? The 15 min Quick Wash cycle5 allows you to wash up to 2 kg of laundry so you can spend less time on chores and more time doing the things you love.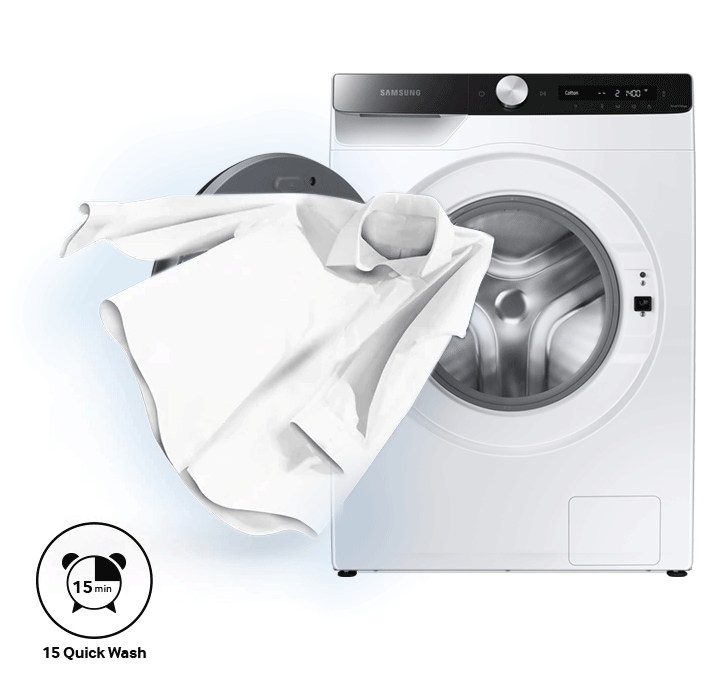 5. The Quick Wash Cycle time can be adjusted for loads 2kg or less, with as little as 15mins for a complete wash cycle for lightly soiled laundry.
Keep the washer fresh
Drum Clean
Keep the door and inside of your washer clean. Drum Clean cleans inside your washer to reduce odour-causing bacteria from the drum without using harsh chemicals. A frictional force of powerful water jet and fast spinning also helps remove dirt from the rubber door gasket. It even notifies you when it needs cleaning.7
7. It notifies after every 40 cycles.
Cleans away detergent residue
StayClean Drawer
The StayClean Drawer helps ensure that more of the detergent is washed away with a specially designed water flushing system. So there's less unsightly soap residue to help the tray stay cleaner.
Durable performance
Digital Inverter Technology
Digital Inverter Technology utilises strong magnets for a quiet and powerful performance. By eliminating the use of brushes, it provides outstanding durability – backed-up by an 11 year warranty.6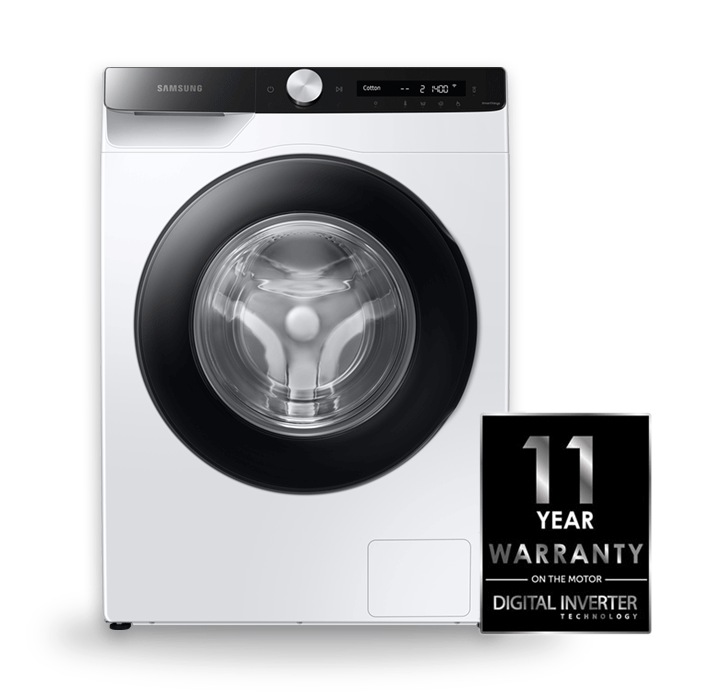 6. See warranty card for details.
Better Together
Matching Washer Dryer
Complete your laundry experience and get the most out of your washer when paired with our matching Smart Dryer DV80T5420AW and compatible stacking kit SKK-UDW.
Only logged in customers who have purchased this product may leave a review.
Related products
Sale!

Fisher & Paykel 8.5kg/5kg Washer and Dryer Combo WD8560F1

$

1,699.00

Sale!

Fisher & Paykel 7kg Vented Dryer with Auto Sensing & 6 Fabric Care Cycles DE7060G2

Brand New

$

850.00

Sale!

Fisher & Paykel 11kg Front Load Washing Machine with ActiveIntelligence and Steam Care WH1160FG2

Carton Damaged

$

1,999.00

Sale!

HISENSE 9KG HEAT PUMP DRYER-PURE STEAM

$

1,299.00

Sale!

Fisher & Paykel 8kg Heat Pump Dryer – White DH9060P2

Carton Damaged

$

1,899.00

Sale!

ChiQ WDFL8T48B3 8kg/5kg Front Load Washer Dryer Combo (Black) brand new

$

1,100.00

Sale!

Fisher & Paykel 9kg Heat Pump Dryer – Black Model DH9060PG2

Brand New

$

1,999.00

Sale!

Fisher & Paykel 8.5kg WashSmart Top Load Washing Machine WA8560G1

Carton Damaged

$

1,199.00